Monet's Table
Saturday, August 24th
Join us for a night of delectable french fare in an elegant environment. Immerse yourself in a time of past!
Saturday, August 24th – Monet's Table at The Outing Lodge
6:30pm ~ Social hour
7:30pm ~ Dinner served
Menu:
Hors d'oeuvres: Herb goat cheese, apricots, almond canapes / French cheese and cured meats platter with fig jam and fresh fruits of the season served with warm baguettes / Spinach artichoke turnovers
Salad: Fennel, orange melon, candied walnuts salad on a bed of fresh organic lettuce with mint dressing
Entrée: Star Prairie farm trout au papillot OR grilled beef fillet with horseradish sauce, roasted brussels sprouts and potato noissette
Dessert: Normandie apple tart "a la mode"
~Champagne, iced apple cider, hard cider, and wine included~ Cash bar available
$75 per person up to one week prior to event.
*vegetarian & allergies, please notify in advance*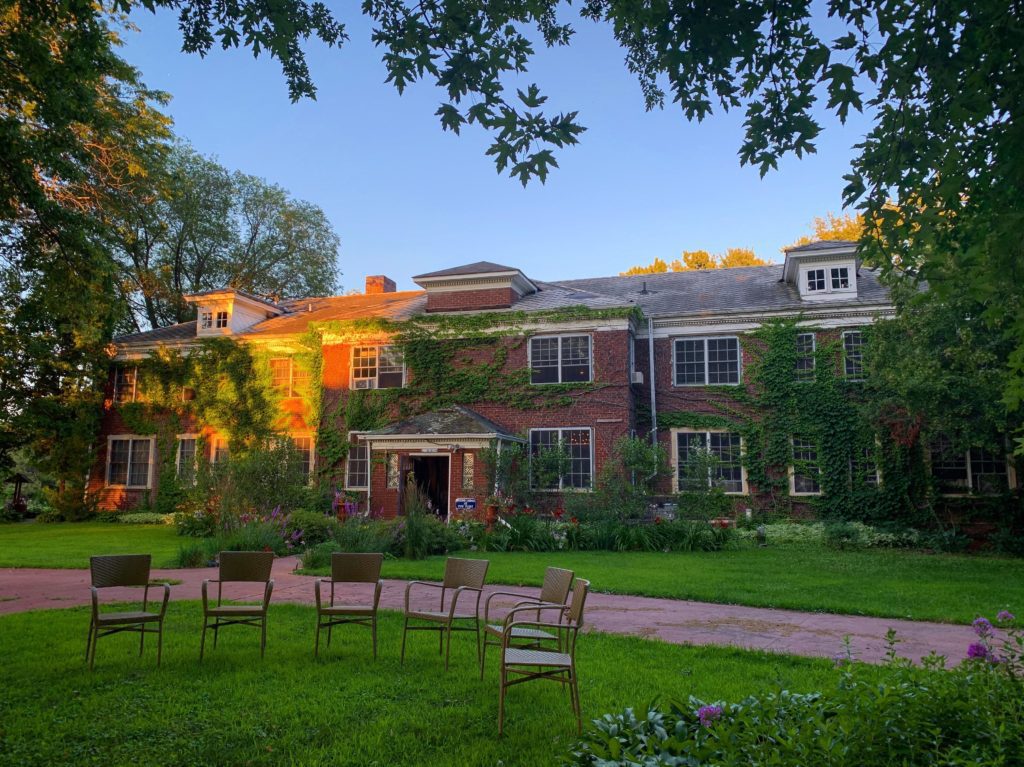 https://www.eventbrite.com/e/fall-sunset-nature-hike-candlelit-elegant-dinner-tickets-67126889333
Fall Sunset Nature Hike & Candlelit Elegant Dinner
Saturday, September 21st
Join Us To Walk the Trails of Pine Point Park (starting at 6.30pm) followed by Dinner Inside the Lodge at 7.30pm.
We plan on Walking Rain or Shine, so dress accordingly & bring an umbrella if you wish to join us for the Walk 🙂 !
You may walk as far as you wish.
Sunset is Scheduled at 7:11pm. We are excited to celebrate the First Sunset of Fall 2019!
Red & White House Wines are Included. Cash Bar for Liqour or Beer. (Bar opens at 6.30pm, Closes at 10pm).
Dinner Menu:
Salad: Spring Greens, Cranberries, & Almonds with a House Vinaigrette (Vegan & Gluten Free)
Entree: Citrus Roasted Chicken Breast with a Citrus Gravy Sauce, Basil Mashed Potatoes, and Green Beans
Dessert: House Apple Crisp & Vanilla Ice Cream
There will be Vegan & Gluten Free alternatives for the Entree (Polenta with Sauteed Vegetables & a Red Wine Sauce) and Dessert (Poached Apple). However, you must call or email us to make note of these choices and any other dietary restrictions in advance.
Bonfire & Smores on the Patio if weather allows.
Please Call (651-439-9747) or Email ([email protected]) us to note any dietary restrictions.
Please call or email us if you buy tickets separately, but wish to sit with another group.
Thank you & we hope to see you to toast the arrival of Autumn!
No Refunds, Please Make Sure you Can Make this Event work before you purchase tickets. You may transfer tickets if you can't make it.
The Outing Lodge's Theme Dinners & Events Reservations
* B&B Discount on jacuzzi or fireplace suites with Theme dinner and  "Sip and paint"  event reservations.
These culinary experiences are unique in our fast modern world. A feeling of harmony flows from flavor to flavor, mixes in the conversation, the good company, the candlelight, and the music. Hablamos Castellano.
Please call with questions or to place a reservation. Reservations start 2 month in advance.
Our dinners follow recipes from European culinary schools. Menus include warm baguettes, pastureland creams and butters, extra virgin olive oil, crisp produce and fresh meats. Wines listed on menus are included in the price of the meals. Cash bar for other beverages will be available during cocktails and dinner.
Events start at 6:30 with social hour. Dinner is served when all guests are seated (note: only one seating).Feel free to inquiry about custom designed Culinary Dinners for your special occasions.
Seven day cancellation policy.
Reservations cancelled with a minimum of 7-day advance notice may apply the payment to a new dinner or a new name. If cancelled with less than 7 day notice, ticket is forfeit. Please, read our policies for other details.